EDitorial ± 5-Feb-2003
A Family Affair (Part 2)
Two years back I wrote about looking into my dad's family tree, and how my dad's dad was one of eleven children. I'd also discovered that the father of these eleven, my great-grandfather, was named James Broom. Well, with Time On My Hands (TM), I've been able to find out a wee bit more.
Thanks to the now-working-pretty-well 1901 online census, it was straightforward to find James ("foundry painter") and wife Ellen in Potter Street, Ipswich, with seven children, aged from 16 down to 1.
Trickier to look up was the 1891 census, but there's James ("brickmaker") & Ellen at Waterworks Street, Cook's Yard, still in the town, with just the three oldest kids, aged from 5 down to 3 weeks.
Don't know where I'm going wrong, but I can't find him in the 1881 census, even though this is available on CD-Rom and therefore electronically searchable. Frustrating.

Got stuck going backwards, so decided to head forwards instead. Using the Kelly's directories on the shelves of Ipswich Record Office, I found James Broom in Waterworks Street as of 1934, and not there in 1935. He'd have been in his 70s by this time, so I went to the local registrar in the hope of obtaining a copy of his death certificate. Which they had, and which I picked up this very afternoon:
when & where died : 16 March 1935, 14 Shackleton Road
age : 74 years
occupation : 3 Samuel Court, Rope Walk, Ipswich; retired painter, general engineering works
cause of death : heart failure, acute bronchitis
description of informant : NE Baldry, daughter, present at the death
So, the old boy had a good innings by the sound of it! Next step this pm was Ipswich cemetery to see if they could locate his gravestone. I gave the details to the very obliging lady at the desk, and she returned several minutes later to say she'd found it, but there were two slightly peculiar things:
also in the grave with James were Ellen Broom, who'd died only three months earlier on 15-Dec-1934 aged 71 (another long stayer), and Martha Broom, only 14 when she'd died on 7-Apr-1914
the site is a public plot, i.e. not private, i.e. not purchased, so grave isn't marked in any way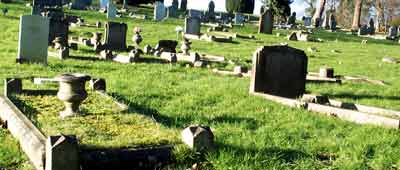 In the photo above, that patch of grass in the foreground between the two marked graves is plot X-21-12, the final resting place of James Broom, his wife Ellen, and poor Martha, one of their seven daughters. May they rest in peace.
Be seeing you!
Ed