EDitorial ± 30-Jun-2003
Sunny Boy
Son & heir, variously known as The Boy, Boysy, Monkey Boy, etc., turned three at the weekend. Doesn't seem that long since he was taking his first steps. Time surely flies. There's also been a fresh addition to his already extensive nomenclature — better check my syllable quota at the end of this — Spider-Boy.
He got what every 36-month-old male must surely crave: a shiny bike and a Spider-Man outfit. The assorted train & Robert The Construction Engineer paraphernalia goes without saying, naturally.
Climb up on my knee, sonny boy
Although you're only three, sonny boy
— The Smiths, The Hand That Rocks The Cradle
(for those paying close attention: I realise the same band have supplied the quote for the last two weeks, but they're The Smiths!)
Being the competitive show-off dad that I am, I took a handful of digital pictures on the morning of the big day, then handpicked the best one and emailed it to family members (though I didn't think to include the Bentleys or the Hanleys, who both took umbrage at being left out). Chosen snap showed The Boy in superhero garb riding round the living room on two wheels. Later that day, this photo was sent back to me:
Big tip-of-the-hat to Neil "The Peel" Klotz, who performed Photoshop wonders removing all traces of Theo's scratch from his nose. And for seamlessly placing The Boy into the webbed feet of Peter Parker. Quality work. Just hope that Neil remembers that with great power comes great responsibility.
Be seeing you!
Ed

EDitorial ± 23-Jun-2003
Potty Time
Saturdays, I usually manage a brief-ish lie-in. Was going to put "usually" in italics, but leany text can look plain unreadable in some browsers. Want an example: does my font look funny in this? Failed bigtime to catch up on my beauty sleep this Sat just gone, and here's why.
My so-called college pal, JK, had seemingly let me down again: no manuscript to proofread, no printer's binding to peruse, no advance copy full stop period exclamation mark. Poor show all round. How best to obtain book five, HPatOotP, on the day of release?
And so it came to pass that I set my trusty red Sony alarm clock for 0530 on the morning of 21-Jun-2003. Ella the eldest didn't need to be woken up, and twenty minutes later the two of us set off for the town centre on our bikes.
Waterstone's had been open at midnight on the Friday, and, according to our friend on the inside, it had taken over an hour to process the queue of around 250 people that stretched back to the Cock & Pye.
There's more to life than books, you know
But not much more
— The Smiths, You Handsome Devil
We parked up outside Waterstone's around 0605am, shortly after they opened. No more than a handful of people around, sensibly enough, as we handed over our &pound5 book token and made the remainder up with cash. Though the lad who came in straight after us promptly grabbed three copies and plonked them down on the counter. Feel the thump of 768 pages times three!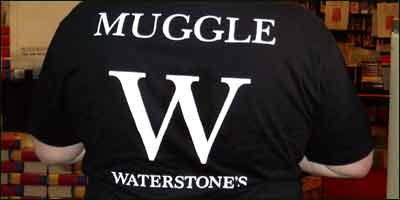 Then a rare treat: off to catch up on the latest family news (and grab a bite to eat while doing so) at Carrot Cake. Got there around 0630am — they'd already had the door open since 5am.
Avi, the mild-mannered and quietly spoken (ha!) proprietor was in fine form, and me & Ella shared a "Canadian": freshly cooked waffle, maple syrup, bacon, egg and sausage. Yum. I'd also like to take this chance to confirm that yes, it's true, Michael J. Fox is also Canadian, having been born in Edmonton.
Wifey tells me that book is good so far. Think she's about a third of the way through. While reading, she keeps making these noises as if key developments are afoot. Here's hoping she doesn't blab too much of the plot.
Be seeing you!
Ed

EDitorial ± 16-Jun-2003
You Never Forget
Watching the new batch of 24 on BBC2? I made an executive decision that our household should duck out after the first three or four hours even though we'd stayed the course for the entire series one, up to & including mad Dennis Hopper's cameo. This time around couldn't get on with that family making the endless wedding arrangements, CTU Tony not having a goatee, and the ever more incredible scrapes in which Kim, the liability, found herself.
Me and Jack Bauer, needless to say, are from the same mould. Let's assess my Monday using one of the few gimmicks not already used by the makers of 24: we're doing it in reverse. Beep, beep, beep, beep, bee-bee-bee-beeeeeep.
18:00
—
Arrive home perspiring mightily
17:57
—
Wave to traffic survey chaps as whizzing down Valley Road hill
17:30
—
Depart work on bike
13:10
—
Notice poster promoting Bike 2 Work week, starting today; grimace slightly
12:30
—
Call from garage seeking permission to investigate any damage caused by broken cam belt; may be expensive, they warn
09:40
—
Arrive work perspiring mightily
09:15
—
Wave to traffic survey chaps as panting up Valley Road hill
09:10
—
Depart home on bike
09:00
—
Depart garage on foot
08:55
—
Arrive garage in truck
08:50
—
Wave to traffic survey chaps as being driven back down Valley Road hill
08:35
—
Breakdown van appears on Dale Hall Lane; mechanic diagnoses cam belt within 30 seconds and begins attaching towing implements; warns of possible damage to valves
08:32
—
Call from breakdown service - where exactly are you?
08:22
—
Breakdown van drives by, not stopping, turning left into Henley Road
08:10
—
Chat to traffic survey guys; they're doing 7am-7pm shift
08:02
—
Various blocked motorists emerge to help push car out of box junction and into side street
08:00
—
Pulling away from lights at Valley Road / Dale Hall Lane junction, hear a not-good noise under car and motor dies; stranded in yellow box blocking traffic in three different directions; call breakdown service immediately
07:58
—
Queueing at lights, notice two gents doing a traffic count
07:55
—
Depart house in car
07:30
—
Lovely day but decide not to bike since:

feeling tired/lazy,
will save ten mins on journey,
and need to get back early to take eldest to tennis practice
As my official Bike Week leaflet says, "for trips... in most urban areas, a bicycle is usually the fastest and always the most convenient door-to-door mode of transport". A truer word was never heard.
Be seeing you!
Ed

EDitorial ± 9-Jun-2003
New Wave
Surveying fellow members of the audience for the gig on Saturday evening, it occurred to me that babysitters in & around Cambridge must be quids-in. Then, re-examining the faces, I realised that quite a few of these guys (and couples) wouldn't need to hire such services, 'cos their kids would already be at college or in their first McJobs.
On stage was the guy who's sandwiched between Janet and Michael Jackson in my Q Encyclopedia Of Rock Stars; an act whose last top ten hit was twenty years ago; a man best known for a song with this opening line:
Pretty women out walking with gorillas down my street
— Is She Really Going Out With Him?
Yep, Joe Jackson is still going after all these years. Consulting my Q book One More Time (also, cleverly, the name of the driving opening track), I see that JJ is, gasp, 50 next year. Flippin' 'eck.
Between January 1979 and October 1980, the Joe Jackson four-piece band released three albums. And then, in December 1980, they split, by all accounts amicably. JJ experimented with big band bop, moved to New York, had a rare hit with Steppin' Out, got into soundtracks, wrote a symphony, and ended up on the Sony Classical label.
Forward to 2003, and the original four of Jackson, Maby, Sanford and Houghton have reunited for a 25th anniversary album and tour. On Saturday evening, mixed in with songs from the new release (Volume IV) are stacks of tracks from Look Sharp! and I'm The Man. Putting aside their combined ages, the energy generated by the band on the night is phenomenal, esp. on songs like Got The Time (once covered by Metallica!) and Don't Wanna Be Like That. Hugely impressive.
If You Take Away With You Nothing Else
Hey ace, shut your face:
catch the band this Friday, June 13th, on Later with Jools Holland
never seen as much bottled water drunk by a crowd
does it get any better than vocals, guitar, bass and drums?
Be seeing you!
Ed

EDitorial ± 2-Jun-2003
File Of Facts
I wouldn't consider myself an early adopter: you know, one of those people who has to be first on the block with the latest gear. We use a colour portable most of the time; there's no Sky or digital in the house; and DVD? Not for me yet, ta very much, though the VHS shelves at Blockbuster are shrinking like the latest Big Brother viewing figures.
Here's a cautionary tale. Back in 2000, I got me a snazzy PDA for my birthday. This was the very recently launched Handspring Visor Deluxe, and I was one happy camper. It could store around 100 times more names & addresses than I knew, it could run endless downloadable bits of freeware, and it was the same colour as my iMac at home, a small but essential detail.
One of the best features, IMHO, was the ability to take a long article or out-of-copyright short story from the web, something that would be a pain to read online, and download it to the device. That way, I could slip the Visor into a coat pocket at lunchtime, then idly flick through the pages while sipping a caffeinated beverage in town. Saved on dead trees and looked cool too.
Over time the novelty wore off. You get out of these things what you put into them, and I put in less and less. And when I did extract it from the leather case, it demanded fresh batteries before it would play. Consequently it fell into disuse. I wasn't proud of this state of affairs.
Having been carted around in my rucksack for months, I decided a few months ago that it was time to give it another go. Only then did I discover a crack in the screen, and it resolutely refused to recognise a single tap of the stylus. Not good. Really not good.
Much more recently I've been using a retro PDA that:
is stylus independent,
requires no power source,
fits in my back pocket,
and is practically disposable
Yep, my trusty WHSmith 32 sheet narrow ruled notebook is doing the job, ta. A snip at 49p.
If You Take Away With You Nothing Else
The lure of tech:
ebay has Visors for around £35, a sixth of the original value
no way I can justify getting an iPod, desirable as they are
mind you, these Sony Clies are pretty good value (must resist)
Be seeing you!
Ed