EDitorial ± 23-Jun-2003
Potty Time
Saturdays, I usually manage a brief-ish lie-in. Was going to put "usually" in italics, but leany text can look plain unreadable in some browsers. Want an example: does my font look funny in this? Failed bigtime to catch up on my beauty sleep this Sat just gone, and here's why.
My so-called college pal, JK, had seemingly let me down again: no manuscript to proofread, no printer's binding to peruse, no advance copy full stop period exclamation mark. Poor show all round. How best to obtain book five, HPatOotP, on the day of release?
And so it came to pass that I set my trusty red Sony alarm clock for 0530 on the morning of 21-Jun-2003. Ella the eldest didn't need to be woken up, and twenty minutes later the two of us set off for the town centre on our bikes.
Waterstone's had been open at midnight on the Friday, and, according to our friend on the inside, it had taken over an hour to process the queue of around 250 people that stretched back to the Cock & Pye.
There's more to life than books, you know
But not much more
— The Smiths, You Handsome Devil
We parked up outside Waterstone's around 0605am, shortly after they opened. No more than a handful of people around, sensibly enough, as we handed over our &pound5 book token and made the remainder up with cash. Though the lad who came in straight after us promptly grabbed three copies and plonked them down on the counter. Feel the thump of 768 pages times three!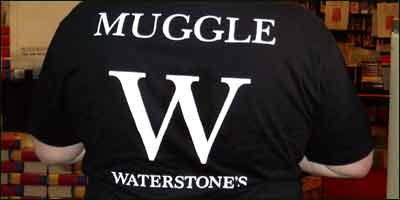 Then a rare treat: off to catch up on the latest family news (and grab a bite to eat while doing so) at Carrot Cake. Got there around 0630am — they'd already had the door open since 5am.
Avi, the mild-mannered and quietly spoken (ha!) proprietor was in fine form, and me & Ella shared a "Canadian": freshly cooked waffle, maple syrup, bacon, egg and sausage. Yum. I'd also like to take this chance to confirm that yes, it's true, Michael J. Fox is also Canadian, having been born in Edmonton.
Wifey tells me that book is good so far. Think she's about a third of the way through. While reading, she keeps making these noises as if key developments are afoot. Here's hoping she doesn't blab too much of the plot.
Be seeing you!
Ed