EDitorial ± 28-Jul-2003
Chiz
There wasn't a great deal of Latin (it killed the ancient Romans, doncha know) taught at my comprehensive. Westbourne, where Broom, E was a pupil aged 11-18, believed in footy and metalwork, not prep and dead languages. F'rinstance there was culture shock all round when Mr Fairweather arrived, ex-the local grammar school, and insisted that we all stand when he entered the classroom. You what?
So quite how me and Bob, who I'd known since infants, got into the Molesworth books, I couldn't say. Got an idea we found Back In The Jug Agane in Smith's, then at its former premises opposite the Crown & Anchor in town, around the time I bought the Armada Book Of Fun. Years later I'm still cracking the jokes from that Armada book and still using phrases straight from Molesworth. I checked some earlier EDitorials, and sure enough there's some pure St Custard's speak at the start of one of the paragraphs here.
Ought to explain this week's title:
a chiz is a swiz or swindle as any fule kno
— Nigel Molesworth, Down With Skool!
What brings all this to mind is some serendipitous surfing a fortnight back which landed me upon a really funny work by Alice Dryden called "ho for hoggwarts!" (see link on right). Quick, some comprehensively educated modern maths set theory!
let P be the set of people interested in Harry Potter
let M be the set of people interested in Nigel Molesworth
then P U M is the intersection of these two sets
Very happily, I find myself in that weirdly shaped shaded area right in the middle, big on both HP and NM, and consequently best placed to enjoy this piece. Despite exchanging a couple of chatty emails with the author, I'm having trouble believing this was written by a 24-year-old female since, as Nigel says:
hitherto my conviction hav been that GURLS are uterly wet and weedstruck
One moment last week I realised that my quality of life would be much improved if only I had:
a Spider-Man ring tone (60s cartoon theme tune) on my mobile
a T-shirt with a picture of Nigel Molesworth
Behold one of the above: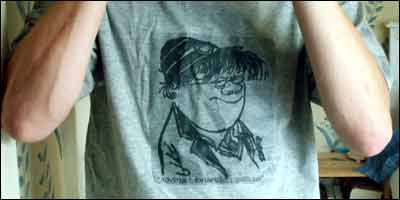 Take one scanner, one copy of The Compleet Molesworth, one sheet of transfer paper, one &pound3 T-shirt from Tesco and a hot iron, and bingo! BTW, that writing at the bottom says "Advanced, Forthright, Signifficant", which is NM's opinion of Colin Wilson, the new philosopher, when asked by Fotherington-Tomas.
If You Take Away With You Nothing Else
In fact any skool is a bit of a shambles:
hullo clouds, hullo sky
Geoffrey Willans wrote the words, Ronald Searle did the drawings
and my Spider-Man ring tone is rather cool too
Be seeing you!
Ed