EDitorial ± 19-Aug-2003
Novel Idea
It had to be Sunday August 17th at sunset, said the instructions, outside "the largest newspaper office near you". Blind follower that I am, there I was at precisely the appointed time, 20:18, skulking around in front of the Evening Star's premises in downtown Ipswich. And in my hand was a book – Oscar Wilde's only novel, The Picture Of Dorian Gray – in a clear plastic bag.
Oh, there's more to life than books, you know
But not much more, not much more
— The Smiths, Handsome Devil
Had to wait a few minutes for assorted cars and pedestrians to pass before completing my task: to leave my book-in-the-bag hanging on a railing opposite the hacks' entrance. A handwritten note on the cover, FREE TO A GOOD HOME!, tried to make things clear, and inside was the unique ID code allocated by BookCrossing. I'd made it to step 3 as dictated on their website:
read a good book
register it on their site
release it for someone else to read
Such a nifty notion, IMHO. Instead of gathering dust, you set a book free, anonymously, in the hope that a stranger will find it, take it home, and maybe read it themselves. Then, if so inclined, they can deposit it in another street, another town, another country.
According to the FAQ, only 20-25% of releases are "caught" at present. Joe Public is naturally suspicious of freebies and may choose to ignore or dump such a package. So, the very next day, I was chuffed in the utmost to receive an email directly from the site to say that mine had been found. I only know that the finder also hails from Ipswich – no surprise there – and wrote that this was "a superb idea". Lovely!
If You Take Away With You Nothing Else
Fact or fiction:
an Italian copy of the same book, Il ritratto di Dorian Gray, was set free in Bologna on Monday 18th
says Oscar, there is no such thing as a moral or an immoral book
keep your eyes peeled
Be seeing you!
Ed

EDitorial ± 11-Aug-2003
East Of Ipswich
It's where Maurice Micklewhite performed in rep, met his wife and rechristened himself Michael Caine. It's where Jozef, a Ukrainian seaman and son of Apollo Korzeniowski, learned English from the local newspapers (the Standard and the Journal) before going on to write Heart Of Darkness under the name Joseph Conrad. It's where Terry Butcher, bloodstained England icon & Ipswich hero, went to school.
...a town which in its heyday had been not only one of the foremost fishing ports in the UK but also a seaside resort lauded even abroad as "most salubrious"
— W G Sebald, The Rings Of Saturn
And the kids, parents and grandparents spent a very pleasant five hours or so there on the super sandy beach last Wednesday in Lowestoft. Hot but not too hot on the coast, we watched the car's temperature gauge slowly rise, degree by degree, as we eventually made our way back inland early evening.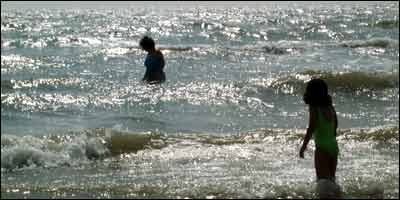 I've got a soft spot for the place, either because of or in spite of spending our summer holiday there year after year when I was knee-high. No paella for us, ta! Names like the Claremont, Sparrow's Nest, Reg Regis and Tide's Reach were ingrained. Model yachts had to be sailed on the disappeared boating lake by the pier, and outings to Oulton Broad and Great Yarmouth pleasure beach were mandatory. Monday, Tuesday, happy days.
By contrast, Max Sebald, that chap quoted above, didn't have such a good time when researching his 1995 book: "I was unprepared for the feeling of wretchedness that instantly seized hold of me in Lowestoft". Can't see that appearing on too many T-shirts in tourist information. Professor of European literature at UEA, the poor guy died in a car crash in December 2001.
Out & about with a rover ticket on Saturday, another boiling day, me & the kids took the loco up to Norwich. But our plan to catch the connection to Great Yarmouth stalled when the train arrived five mins late, so we fell back on plan B — head to Lowestoft. Unwittingly retracing part of Herr Sebald's route "through Brundall, Buckenham and Cantley", two-thirds of the children decided they needed to go. Badly.
Emerging like a hastily convened & poorly attended smart mob from the on-board loo near Somerleyton station, something didn't seem right: the sun had totally vanished. Instead there was a cool white mist everywhere. Not that this stopped us hitting the beach again when we reached the end of the line, though visibility was down to a couple of hundred metres (I'm a metric child). A fine and chillier time was had by all.
Be seeing you!
Ed

EDitorial ± 4-Aug-2003
Writing On The Wall
Feeling the benefit of the motor's newly fitted platinum-encrusted coil springs, the mechanics' greedy laughter echoing in my ears, I had no choice but to turn left out of the garage. Then, to avoid going further out of my way, I took a right. Straightening the wheel in this less-travelled road, I glanced up and beheld the writing on the wall.
Nestled (!) between Ezekiel and Hosea:
In the same hour came forth fingers of a man's hand, and wrote over against the candlestick upon the plaster of the wall of the king's palace.
— Daniel, chapter 5, verse 5
For Belshazzar, king of the Chaldeans, this spelled bad news. I, on the other hand, was darn happy. See, a month or so before, I'd stumbled across a fascinating website put together by Borin Van Loon – great name – all about old lettering around Ipswich. He describes and shows stacks of examples, most (but not all) of which I'd seen before. Since finding his site, I'd been keeping my eyes peeled trying and failing to find a new/old sighting.
Side-on, from Windsor Road, it appears to say NEST RICHES, like something from The Times cryptic. Stand in the right spot on Bramford Road, however, and it plainly reads:
NESTLES MILK
RICHEST IN CREAM
Now a house with Legend Kindergarten next door, 184 Bramford Road was once a shop, as I can just about remember. Five minutes flicking through Kelly's directories in the Record Office yielded the following facts about the premises:
1975 – Alliance Food Stores
1960 – Bowman, Arch. Thos. (general store)
1940 – Rouse, Alex (shopkeeper)
1913 – Squirrell, Victor (shopkeeper)
Number 186 didn't appear until 1927 (home to Bert Nichols), and promptly obscured most of the lettering.
Seems that Nestle's used this slogan for a while, as shown by the above poster. There is a third line of lettering, ending with "merchant", but you'd need to be taller than me to read it.
If You Take Away With You Nothing Else
Full cream, semi-skimmed, skimmed:
condensed milk, anyone?
shame that Nestle are now the UK's least ethical company (see baby milk link)
keep looking - keep watching the skies!
Be seeing you!
Ed