EDitorial ± 11-Aug-2003
East Of Ipswich
It's where Maurice Micklewhite performed in rep, met his wife and rechristened himself Michael Caine. It's where Jozef, a Ukrainian seaman and son of Apollo Korzeniowski, learned English from the local newspapers (the Standard and the Journal) before going on to write Heart Of Darkness under the name Joseph Conrad. It's where Terry Butcher, bloodstained England icon & Ipswich hero, went to school.
...a town which in its heyday had been not only one of the foremost fishing ports in the UK but also a seaside resort lauded even abroad as "most salubrious"
— W G Sebald, The Rings Of Saturn
And the kids, parents and grandparents spent a very pleasant five hours or so there on the super sandy beach last Wednesday in Lowestoft. Hot but not too hot on the coast, we watched the car's temperature gauge slowly rise, degree by degree, as we eventually made our way back inland early evening.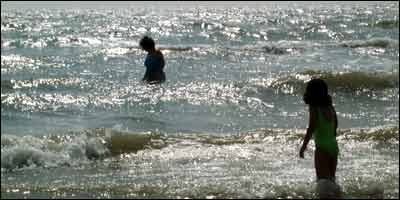 I've got a soft spot for the place, either because of or in spite of spending our summer holiday there year after year when I was knee-high. No paella for us, ta! Names like the Claremont, Sparrow's Nest, Reg Regis and Tide's Reach were ingrained. Model yachts had to be sailed on the disappeared boating lake by the pier, and outings to Oulton Broad and Great Yarmouth pleasure beach were mandatory. Monday, Tuesday, happy days.
By contrast, Max Sebald, that chap quoted above, didn't have such a good time when researching his 1995 book: "I was unprepared for the feeling of wretchedness that instantly seized hold of me in Lowestoft". Can't see that appearing on too many T-shirts in tourist information. Professor of European literature at UEA, the poor guy died in a car crash in December 2001.
Out & about with a rover ticket on Saturday, another boiling day, me & the kids took the loco up to Norwich. But our plan to catch the connection to Great Yarmouth stalled when the train arrived five mins late, so we fell back on plan B — head to Lowestoft. Unwittingly retracing part of Herr Sebald's route "through Brundall, Buckenham and Cantley", two-thirds of the children decided they needed to go. Badly.
Emerging like a hastily convened & poorly attended smart mob from the on-board loo near Somerleyton station, something didn't seem right: the sun had totally vanished. Instead there was a cool white mist everywhere. Not that this stopped us hitting the beach again when we reached the end of the line, though visibility was down to a couple of hundred metres (I'm a metric child). A fine and chillier time was had by all.
Be seeing you!
Ed