It's all down to an enterprising chap named Herbert Frood. In need of a catchy brand name to move forward the company he'd formed in 1897, he rearranged the letters of his surname to coin a word known to most (if not all) adults in the Ipswich area: Ferodo. All together now:
D-I-S-C B-R-A-K-E P-A-D-S
He based his organisation in Chapel-en-le-Frith in the Peak District of Derbyshire, and, clever guy that he was, invented everything from asbestos braking pads to the first bullet-proof clothing.
Standing on the it-never-stops Norwich Road that links the A14 Asda turn-off to the town centre, this landmark acts like one of the gates that once marked the town boundaries. Every hour or so a large goods train or small passenger train passes over on the line to Felixstowe, next stop Westerfield. If heading for Ipswich station, it then makes its way over the less characterful non-logo-ed bridges of Bramford Lane and Bramford Road in quick succession.
| | | | | |
| --- | --- | --- | --- | --- |
| Known to Railtrack as 407 ESK | | The man himself, Herbert Frood | | If you witness a vehicle striking this railway bridge... |
Ferodo the company was acquired by a big US outfit named Federal-Mogul in 1998, but the brand name was more than strong enough to survive. Around this time the new owners decided to discontinue the bridge advertising campaign. According to a recent snippet in the local Evening Star paper, although the name is still very much there for thousands of motorists to see each day, Federal-Mogul haven't had to stump up any money to the rail company for the last five years. Nice one.
Incidentally, the Ferodo Works brass band won the prestigious British Open Championships back in 1955. It must have been around this time that the lettering was originally painted, since there is at least one photo from the 1950s which shows a different name on the bridge. Curiously enough this was another manufacturer of brakes, Lockheed. Their slogan: the safest brakes in the world!
| | | |
| --- | --- | --- |
| Back in the days of trams | | Felixstowe here we come |
Can't remember for the life of me where I was elsewhere in the country one day when I chanced across another Ferodo railway bridge. We're not unique, you know. Turns out that other Ferodo-sponsored crossings exist elsewhere, including:
London, at:
Coventry, on the London Road
Middlesbrough, on the Albert Road
Sheffield, on the A6109
Bridgend, on the A69
NB If you can provide a photo of any of the above, or you know of any others, I'd love to hear from you.

Snippet: an artist named Lesley Giles has even produced an oil painting of a Ferodo bridge. It forms part of an exhibition called "The City" at Whitechapel Contemporary, a gallery in Aldgate, and is a snip at £1215. Maybe they do postcards?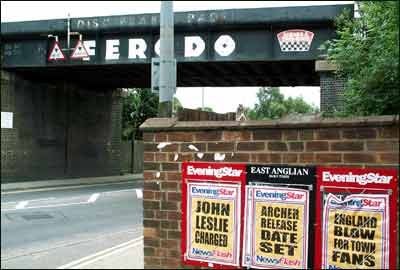 Taking these photos earlier this evening, I spotted a couple of bits of graffiti, both possibly showing their age. Daubed high on the left hand side of the bridge, approaching from the Suffolk Punch side, is "PAY NO POLL TAX". Fair enough. And on the Norbridge Social Club side, equally high up, is some sort of crest, complete with crown, that I can't make out. Possibly has 1989 and 1972 stencilled beneath it (though Joanne from Ipswich believes it says 1977 to tie in with QE2's silver jubilee and her visit to the town).
| | | |
| --- | --- | --- |
| Formula for success | | Graffiti: but how? |
So next time you're heading to Newmarket, Norwich, or even just Asda, remember the pioneering works of Herbert "Ferodo" Frood.
————— The Gallery —————
Behold a photographic selection of Ferodo Bridges from around the country. Many thanks to everyone for taking the time and trouble: cheers chaps!
Bow Road, near the Dockland Light Railway station, London
(photo by
Flash Wilson
)
Coventry
(photo by Mark Jefford)
Longton, Stoke on Trent
(photo by Andy Holmes)
Says Andy:
It's been there for absolutely years. I'm 30 - and I can remember it always being there. Even though I've moved from Stoke, I always check it's still there. Very reassuring!

About 20 years ago, it carried the famous "disc brake pads" slogan - and the advert has been replaced several times over the years - although the bridge has remained identical.

Like the others, everyone in that part of Stoke knows of it - and is frequently used to give directions by. It's for that reason that it's become a bit of a cult thing among my group of friends - hence our interest in your website!

The bridge itself is something of a local landmark. A google search of "longton railway bridge" shows it in much more olden days.

In terms of location, it's at the junction of King Street and Baths Road in the Longton area of Stoke-on-Trent. The area is called Times Square - although somewhat less glamourous than its New York counterpart!

The picture is taken looking from King Street into Times Square - and the building in the background is Longton Town Hall. To the right hand end of the bridge (as seen from the picture) is Longton railway station with Baths Road behind it. It rarely sees any passengers - and is on the line (I think) from Stoke-on-Trent (to the right in the picture) to Derby (to the left).
Caledonian Road, London
(photo by Matt Bowden)
---