EDitorial ± 28-May-2021
Ipswich Lunches: Good Inside
<! - |entrytitle|Ipswich Lunches: Good Inside| -->
For weeks there's been a folded bit of Guardian on the fridge headed "Path out of lockdown: key dates to remember". Having got past 8 March (schools), 29 March (six people outdoors) and 12 April (hairdressers), the most recent of these was 17 May (rule of six indoors). So with a quartet of jabs between us, it's finally time for the first officially sanctioned light lunch since Feb 2020.
Despite one thing and another, a handful of new eateries have sprung up over the last 18 months. Right next to the lovely Green Room -- where myself and Andy could be pictured on Street View until recently -- stands Good Inside, "a real food cafe" with a (checks notes) paleo-ancestral ethos. Think low carb, high protein. Already sat in the prime window seat is Captain Caveman himself, Eco Andy. I thought we might have sat outside in the sun, joining that young couple sipping wine in short sleeves, but he thought it was equally good inside.
We're greeted with a smile by a cheery young woman: she's wearing a face shield, a reminder that we ain't done with this whole thing just yet. Ginger iced tea, please, while we scan the smartly printed A5 menu which includes:
aubergine parmigiana
peposo -- Tuscan shin of beef
parmesan crusted chicken wings
roast chicken laksa
kapuska -- lamb stew
Brancaster mussels
Andy goes for the eggs benedict -- he very much likes the sound of that cheese waffle -- while it's the grilled sardines with fennel for me, ta v. much. Fresh from Felixstowe, apparently, and splendidly fishy. Locally sourced light floods into the sparsely decorated downstairs room while we chomp away.
I'm obliged to try the maple and pecan cheesecake -- smoother than Smooth FM -- while Andy doggedly declines dessert. As shown by their zingy macchiato, this is clearly a classy joint and will hopefully say nice things and possibly even complement the neighbouring Green Room, turning St Margaret's Green into Ipswich's very own 18th Arrondissement.
If it was a car -- Fiat Palio.
If they were passing by -- Harry Hill.

EDitorial ± 21-Feb-2021
Jab Done
<! - |entrytitle|Jab Done| -->
Now into his 80s, my father-in-law had his first Covid vaccination just after Christmas -- the first person I knew to receive one -- and his second in mid-January. Then, in early February, my mum, my mother-in-law and my wife (probably due to a recent blood transfusion) all had their initial jab on the same Tuesday. Me, though? Peak of health, 54 but feeling 53, not likely to get the call for a few months. Days later, dear reader, I got the call.
Biking up to the Ivry Street medical practice I thought back to that 80,000 Suspects film, those extras queueing outside the Bath Assembly Rooms in freezing conditions, and in particular to the scene with actor Graham Moffatt nervously rolling up a sleeve. He doesn't make the film credits but, according to Wikipedia, played the role "fat man in vaccination line." That'll be me, I wrote, breaking out in a sweat at the sight of a needle.
Downstairs at the doctor's I sanitised my hands, confirmed my ID and, like some robotic droid, waited on the red line drawn in tape on the carpet; a faster-moving yellow line snaked off to the right. A sign on the wall told me that "the vaccine in use is Oxford / AstraZeneca" -- like the soupe du jour -- with the parenthesised "(British)" in eight point font. I had a better view of the woman ahead of me being done than I would have liked and looked away. Called through, there were questions to be answered:
do you work in a care home or the NHS?
have you had a vaccination in the last seven days?
are you taking part in a COVID19 trial?
have you ever suffered a severe reaction to an injection?
are you or have you even been a member of the Communist Party?
I'm Liz, said Liz the nurse. How are you with this sort of thing? Not great, I said. OK, she said, turn the chair this way and I'll shift over here out of sight; you'll hardly feel it go into the muscle. I was thinking that's the sort of detail I'd rather not know when she pronounced me all done. I gave it a few minutes standing outside, as advised, then whizzed back down Paget Road to resume Working From Home for the 47th straight week.
Hope you get yours soon. In the immortal words of the 1957 track by The Silhouettes, "yip yip yip yip yip yip yip yip, mum mum mum mum mum mum, get a jab."

EDitorial ± 1-Feb-2021
80,000 Suspects: Smallpox in Bath
<! - |entrytitle|80,000 Suspects: Smallpox in Bath| --> A Tweet from
James Harrison
(BBC archive researcher) pointed me to
80,000 Suspects
(
IMDb
), a black & white film from 1963 about a smallpox outbreak in Bath. What with one thing and another -- the current situation -- it makes for fascinating viewing.
For those interested in the Bath filming locations, of which there are many, there's no better resource than Reel Streets which compares film stills against present sites.
— Identify All Primary Contacts —
"The top priority now is to identify all primary contacts and the immediate vaccination of all police, emergency services, postal staff, in fact every public servant in the city."
Basil Dignam takes charge.
— This Virus Is A Killer —
"I cannot say this too emphatically. This virus is a killer. Yes, we do only have three cases but tomorrow it could be 33, in two weeks 1003 unless we contain it now."
Asked if this is an over reaction by the town clerk, Basil Dignam slaps him down.
— An Unidentified Coffee Bar —
"We have a list of all the places the boy Davis can remember going to... The theatre, two cinemas, Pump Room dance, Colonnade restaurant and an unidentified coffee bar."
Mervyn Johns is Mr Track & Trace.
— 16 Days —
"Our urgent job is to find every person who was in any of those places on the dates he was there."
"And when we find them?"
"Report their names and addresses to the doctors. They'll be vaccinated, isolated to their houses or wherever they are for 16 days."
There's gonna be a lot of tracking and a lot of tracing.
— Stay In Your House —
"Do you understand how you can help us by staying in your house for a couple of weeks?"
"What about my job? Supposing they stop my wages?"
Norman Bird's son is home from working on a cruise ship and has unwittingly brought the disease into beautiful Bath. Basil Dignam heads round to spell out what the family must do.
— No One Must Go Out —
"Your groceries and things will be delivered. They'll be put in a special bin outside so they'll keep clean and dry. You do understand: no one must go out for any reason whatsoever."
Fortunately Norman Bird didn't have to wait for a Tesco slot.
— Theatre Royal —
"Anyone who visited the Theatre Royal for the evening performance on December 20 should likewise go to their doctor for immediate vaccination."
The perils of going to see Mother Goose.
— They'll Still Hold The Football —
"I suppose they'll still hold the football on Saturday."
"Mind you, I don't really believe in it but if it's free why miss it?"
"You'd think they'd organise it better, wouldn't you?"
Of course the football will be going ahead. And it seems there's a conspiracy theorist in the queue awaiting vaccination.
— You've Had This Before —
"Oh, come on, you've had this before, haven't you?"
That'll be me, breaking out in a sweat at the sight of a needle.
— House Quarantine —
"Although many hundreds of people are still under observation in house quarantine, the Ministry of Health state that all steps are being taken to prevent the outbreak from spreading to other districts."
As ever, we're in the best possible hands.
— More Than 21,000 People —
"According to reports more than 21,000 people have been vaccinated since the beginning of the outbreak just over a week ago."
Pfizer? AstroZeneca?
— Have We Licked It? —
"I can't go on saying it's all under control. What else can we publish?"
"Plenty of sunshine cruise pictures, football and comic strips, that's my prescription."
"They don't want to escape, they want to be told: have we licked it or haven't we?"
Arthur Christiansen, "the greatest editor in the history of Fleet Street", plays the local newspaper chief two years after a very similar role in The Day the Earth Caught Fire.
I rented 80,000 Suspects from the BFI Player but it pops up sometimes on Talking Pictures TV.

EDitorial ± 25-Jan-2021
Ipswich Co-op Mosaic Mural
<! - |entrytitle|Ipswich Co-op Mosaic Mural| --> Growing up, the huge
Ipswich Co-op
on Carr Street was, like
Martin & Newby
, a local landmark. Depending on your viewpoint, the department store marked either the end or start of the high street. I dimly recall going there with my mum to join the divi queue and hoping she'd buy me something from Albert List over the road. Later, me and G. would pop in to the food hall for a Pork Farms pasty to reheat in our St Helens Street flat. Then, as a parent, me and The Boy walked into town and took the escalators up to the toy department for him to purchase a Lego Power Miners
titanium command rig
. That would be around 2009.
Shorly afterwards, the Co-op cleared out. A secondhand furniture place occupied some of the ground floor for a couple of years. There's currently talk of the old building being used a school but, as of 2021, the property remains empty.
As Borin Van Loon shows on his comprehensive Ipswich Lettering page, there's plenty to see at the front for those who care to look up, from the Ipswich Industrial Co-operative Society Limited upper-case wording to the musketeer statement Each For All & All For Each. However, take a stroll through the walkway leading to Cox Lane -- round the back of the store -- and you'll find something quite special and under-appreciated, a vividly coloured ceramic mosaic.
— Mosaic Mural by Bajo and Hevezi —
In 2020 the architectural historian Lynn Pearson published the fantastically informative England's Co-operative Movement: An Architectural History. One of the final sections is headed Art for the People: Co-op Design from the Mid-1950s to the 1960s and includes this paragraph:
The final mural in the series was a collaboration between Gyula Bajo and his old friend Endre Hevezi, probably carried out during 1963-4 and certainly complete by spring 1965. Designed for a site at the rear of Ipswich's modernised premises (1960-5, CWSAD), it is a colourful and elegant mosaic mural, a stylised abstract representation of co-operation based around a female figure holding a wheatsheaf. Although further developments were planned for the area, nothing materialised and the mural now looks out over car parks and back entrances to anonymous buildings.
Lynn Pearson's Building of the Month article for the Twentieth Century Society tells us that our own example at Ipswich is "one of only four surviving large-scale English co-op murals from the 1950s and 1960s", the others being:
Hull — Three Ships by Alan Boyson (1963)
Scunthorpe — Co-operative Pharmacy by Derek Brown with Harris & Sheldon (1963)
Stevenage — town square above Primark by Gyula Bajo (1957-58)
The commissioning of Bajo and Hevezi's mural tied in with the modernisation of the Co-op's Carr Street premises which were reopened in November 1965 by Pat Phoenix (Coronation Street's Elsie Tanner): such was the clamour, says Pearson, that "several people fainted".
I've seen a few references to the mural being called Harvest, perhaps due to that wheatsheaf, but can find no confirmed source.
— Debre Libanos, Ethiopia —
The rear of the Co-op building on Cox Lane is so large that it's a little hard to gauge the size of that mural. I'd recommend standing beneath it and looking straight up. According to the Recording Archive for Public Sculpture in Norfolk & Suffolk, it's approximately 3m tall and 9m wide. That's thousands of tiny tiles.
From the Co-operative Wholesale Society Architects Department (CWSAD), Hevezi and Bajo progressed to ever larger projects and designed mosaics for Debre Libanos, a new monastery complex in Ethiopia.
Lynn Pearson references an article in the Illustrated London News from 10 April 1965, headed Mosaics for Ethiopia show craftsmanship on a magnificent scale:
This series of mosaics for the new Coptic cathedral at Debra Libanos near Addis Ababa is one of the most striking pieces of religious craftsmanship to have been made in England for a long time. Their dynamic sense of power comes partly from their enormous size (they cover more than 600 square feet and are the largest mosaics ever made in England) and partly from the force of the facial expressions. They do not aim at novelty in conception or design, preferring to follow the early mediaeval traditions of mosaic-making. Before they were shipped to Debra Libanos, where the new cathedral is now complete and waiting for them to be installed, the mosaics are being shown at the Royal Festival Hall (April 8 to April 19) by the designers Endre Hevezi and Julian Bajo. This is the artists' first major religious work. They have done highly successful decorative mosaics for a department store in Ipswich and for the Greek State Tourist Office in Regent Street, but have never tackled such a dramatic or serious series of designs as the life of Christ. They spent months looking for the perfect shades of mosaic glass which they have imported from places as far apart as Sweden, Italy, Greece and Turkey. Then they worked up a series of watercolour designs, but it was not until they were laid out at the Festival Hall that they were able to see the overall effect. As they completed each mosaic in the studio it had to be cut up in foot-square sections, and packed away in cases to make space for the next mosaic. The only way they found to get an overall view of one of the scenes was to lay it out in the garden, and examine it from an upstairs window.
To give you a sense of period, the cover of that magazine from 1965 shows a cartoon by Gerald Scarfe of James Callaghan, then Chancellor of the Exchequer, with the headline Callaghan's Tough Budget Proposals.
— Gyula Bajo (1907-1984) —
Gyula Bajo and Endre Hevezi (sometimes spelt Hevesi) were both Hungarian refugees who, according to Millers Twentieth Century Ceramics Collectors Guide, were taken on as labourers for the potteries firm of Booths and Colcloughs in 1948. Previously separate businesses, Booths ("makers of fine tableware") and Colclough ("bone china in daily use the world over") merged in 1948.
Both knew their arts and architecture and designed pottery in their spare time. Given a studio they produced Bajo Ware, "a range of interesting and unusual designs for tableware and ornaments with painted and printed decorations based on historical, mythological and modern themes."
A catalogue entitled Decorative Art 1950-51 includes a "Vase of the Evangelists, reminiscent of Byzantine and early-Christian bas-reliefs in ivory yet modern in colour and form" by Hevezi and Bajo, while a similar publication from 1953-53 includes a "square earthenware dish painted with engobes on the wet body, greyish-matt glaze" designed by Dr.Gyula Bajo.
It's thought that Bajo first exhibited his artwork in Budapest in 1932. Mid-century paintings by Bajo (e.g. of Brixham and Stockholm) occasionally appear for sale online.
— Endre Hevezi (1923-2017) —
Endre Hevezi qualified as an architect in Budapest before being sent to Denmark as a refugee. There he painted portraits and landscapes, exhibiting in Copenhagen and Stockholm. Moving to England, still a refugee, he "carried the clay" (with Bajo) at Booth and Colclough, progressing to become the firm's designer.
Although he returned to architecture when he moved to London, he engaged in a series of commissions "in pottery, mosaics, stained glass and bronze", including the Ipswich mural with Bajo. Hevezi's work also pops up sometimes in online auctions.
Some of Hevezi's "fine ceramic panels" can be found on the side walls of the listed Roman Catholic seminary known as Allen Hall, designed by Hector Corfiato, in Chelsea.
— Queen's Way Co-op Mosaics —
I have a pet theory: first, take a look at the colour palette being used in the top right of the Cox Lane mural. There's a variety of small blue tiles from dark to mid to light. Next, take a look at these far cruder tile mosaics on the wall of the Queen's Way Co-op facing the Rands Way roundabout. Same shades of blue?
That old Co-op building is, in truth, the Carr Street Cathedral.

EDitorial ± 11-Jan-2021
Ipswich on Film: Yesterday's Hero
<! - |entrytitle|Ipswich on Film: Yesterday's Hero| --> On March 31st 1979 cameras and crew visited Ipswich to film part of
Yesterday's Hero
(
IMDb
). Written by
Jackie Collins
, it starred
Ian McShane
as Rod Turner, a once great striker reduced to non-league football and boozing.
Most of the filming took place on the Portman Road pitch before that afternoon's Division One game against Manchester City, much to the amusement of the 20,000 crowd who eventually saw ITFC win 2-1 with goals from David Geddis and Alan Brazil. Perhaps you were there?
See also Requiem Apache.
— Yesterday's Hero —
The titles show our man Rod Turner huffing and puffing in blue and white stripes on a gloriously muddy pitch in a scrappy ground alongside a railway line. This was filmed at York Road, the home of Maidenhead United.
In these opening scenes he seems perfectly natural with some half-decent touches. It probably helped that Harry, his father, had played over 200 post-war league games for sides such as Bolton and Manchester United.
— Starring Ian McShane —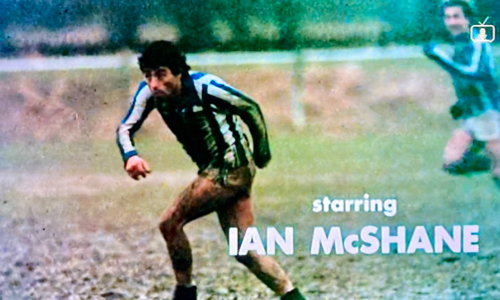 Ian McShane was then 36 and best known for his TV roles as Heathcliff in Wuthering Heights, Judas in Jesus of Nazareth and the eponymous Disraeli, as well as guest roles in Space: 1999 and Roots. He'd also starred in a number of films such as Sky West & Crooked and Villain.
A reminder that Yesterday's Hero was made in 1979; Lovejoy started in 1986.
— Churchman's —
We open with an aerial shot along the top of the West Stand (before it was redeveloped as the Pioneer) long before it became The Co-Operative Stand. Towering in the background is the Churchman's cigarette factory that gave its name to the Churchman's stand, now unrecognisable as the Sir Alf Ramsey Stand.
John Motson, lending authenticity as the commentator in his first film role, introduces the match: "So the two teams coming out together then for this FA Cup semi final, Hamilton United wearing blue shirts and white shorts and the Saints in their lucky colours, their yellow shirts and blue shorts they've worn throughout the competition."
— Ian McShane at Portman Road —
Motson: "Saints with Rod Turner at centre forward recalled from the soccer wilderness getting all the attention before the kick off."
Saints are a 3rd division side on a cup run who've been bought by pop star Clint Simon (think Elton John) played by Paul Nicholas (think Paul Nicholas).
Rod (think George Best), ignoring Glynis Barber alongside him in bed, turns on the telly and says "I can just get the last five minutes of Sportsnight" -- good line, that -- where he learns that "the only black spot for Clint Simon and Saints was striker John Snatcher getting himself badly injured".
Later that year, in November 1979, George Best himself would appear at Portman Road in an Ipswich shirt to play in a testimonial match for Bobby Robson.
— Packed ground —
Motson: "The ground is absolutely packed for this match."
That looks to me like the walkway up to the terraces through the old West Stand.
— Adam Faith in the dugout —
Saints are managed by Jake Marsh, somewhat improbably played by Adam Faith. To add to the mix, Jake and Rod played for the same team back in the day, and Jake is very much against the idea of owner Clint bringing in has-been Rod. Says Jake to Clint more than once, "He's old. Slow. Drunk."
Jake sports the standard red tie and sheepskin apparel of the late 1970s football coach. Note those yellow and blue scarves of the spectators standing behind the dugout.
— Paul Nicholas and Suzanne Somers in an executive box —
Saints owner Clint Simon is first and foremost a pop star but seems to owe a lot of that to his poppy duets with Cloudy Martin, played by Suzanne Somers. We see rather a lot of these songs in the film both live and in the studio. Further adding to the complications, it transpires that Cloudy and Rod were briefly an item, of course.
Being pop royalty, Clint and Cloudy watch the action through the thick glass of an executive box in the East Stand, now The Cobbold.
Note the old black and white board in the corner that was used to give the scores of other games in the division. You'd need to consult the Goal Check part of the programme to know that match A was Liverpool v. Manchester United, B was Wolves v. Arsenal, etc.
— North Stand —
Motson: "Turner goes in. The ball in the penalty area. Is this a chance for Turner? Oh, dear me!"
To jeers from the North Stand, Rod blasts over the bar from close range to the frustration of manager Jake.
Saints yellow and blue kit was the away kit at that time of Southampton FC. Footage from the 1979 League Cup final between Soton and Nottingham Forest (billed as Leicester Forest) is heavily used in the climax of the film. Whereas the Portman Road parts were filmed on 31 March, that Wembley game had happened two weeks previously on 17 March.
— In the net —
Motson: "When the ball is crossed into the penalty area, Jepson's there!"
With the camera conveniently positioned in the back of the net by first time director Neil Leifer, Hamilton's goalie dives but can't stop the opening goal scored by Rod's team mate. Once again Churchman's looms large.
— Police presence —
Rod, back to goal, shields the ball from a red-haired defender wearing an Ipswich top.
Remember when the North Stand included a caged area for away fans with rows of police between the two sets of supporters? There are the boys in blue behind some Ipswich fans, one of whom is wearing a striped ITFC blue and white scarf.
— Turner is there —
Motson: "Walford is there. Can he pull the ball into the area? Turner is there!"
Channelling his inner Roy of the Rovers, old & slow & drunk Rod bundles the ball over the line from three yards out to the delight of chairman Clint.
In a 2012 interview for The Independent, McShane said: "I played at quite a high level when I was 10 or 11, but I played with some kids who went on to be pros, and I knew even at a young age that I didn't have the kind of skill that they had."
— Ipswich Co-op —
Included as a "football adviser" in the credits is Frank McLintock who made over 600 appearances in the 60s and 70s for Leicester, Arsenal and QPR. He can also be fleetingly seen in the changing room at one point as the players celebrate their victory.
Main excuse for including this particular image is that blurry advert saying "Hotpoint at Ipswich Co-op". Other billboards around the pitch include Matthews for Colour TV, Work for Manpower, CKN Volkswagen, Jaffa Oranges Grapefruit, Zargan, Motor Way for Tyres, DAF Trucks, and CIS for insurance.
— Tolly Cobbold Ales —
Motson: "The referee has checked his watch. It's all over!"
Despite manager Jake catching him swigging from a cheeky bottle at half-time, Rod is somehow allowed to play the second half. After a fierce exchange of words between player and manager, Jake somewhat gratuitously refers to Rod as "yesterday's hero".
The players of victorious Saints and Hamilton United are all mates as they walk off towards the intersection of the West and Churchman's Stands. Behind the players is an advert for Tolly Cobbold Ales.
— Back of the stand —
[Jake] Even the great Rod Turner can't get away with boozing during a match.
[Clint] He scored, didn't he?
[Jake] He was handed that goal on a plate!
Saints have made it to the FA Cup final but, round the back of one of the stands, manager Jake is none too impressed with goalscorer Rod and takes it up with owner Clint.
So ends the sequence at Portman Road.
— They're Gonna Put Us In The Movies! —
The "official match day magazine" for Saturday 31st March 1979 (price 20p) includes columns by Bobby Robson, Mick Mills and John Motson. Full colour centrefold is Tommy Parkin ("favourite holiday spot: Gateshead") and it's At Home with Terry Butcher ("lives in digs in Ipswich"). But there's also two-thirds of a page headed They're Gonna Put Us In The Movies.
"SCENES for a new film tipped to be a giant box office success are being shot at Portman Road today. The film is Yesterday's Hero which tells the story of a veteran footballer who drops out of the big-time and heads for the soccer scrapheap. Along comes the millionaire pop star chairman of a struggling club in the lower divisions, however, who makes him an offer he can't refuse and rescues his career. The player, Rod Turner, is played by that celebrated actor Ian McShane who has a long line of top parts behind him in television and on the big screen. Highlight of the film is how Rod inspires his club to a long run in the FA Cup - all the way to the final at Wembley in fact!
"The screenplay has been written by Jackie Collins, whose previous successes include The Stud and The Bitch. Her husband Oscar Lerman, also involved in these two films, is to co-produce Yesterday's Hero with Elliott Kastner, producer of such well-known films as The Big Sleep, Where Eagles Dare and many others. Two pop singers turned actors have major parts. Paul Nicholas is the chairman who gambles on Rod being a success and Adam Faith is the coach who works closely with him at the club. The female lead is Suzanne Somers, currently very big in the States as the star of Three's Company, the most popular TV show over there and based on the successful British series Man About The House. Filming will take place on the pitch before the main attraction at 3:00pm. Two teams will take part in a kickabout mach with specific scenes in the film being acted out.
"Apart from the actors involved, members of Sudbury Town Football Club, managed by former Town full-back Colin Harper, will also take part. Why did the film company select Portman Road as a suitable venue? A spokesman commented: 'We were very impressed with the facilities at Ipswich which are ideal for our purposes.' Providing a link in the deal are Circle Sports, a subsidiary of Maybank Press who have printed the club's match day magazine for the past four seasons. Managing Director Richard Moore said: 'Because of our connections with Ipswich we recommended it as an ideal location and I'm pleased to say the film company agreed.'"
— Yesterday's Hero by Paul Nicholas —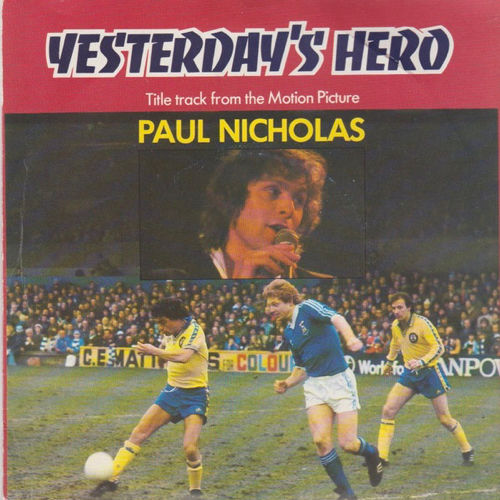 To coincide with the release of the film, Warwick Records released a soundtrack album (as advertised on TV!) containing "20 Sensational Disco Greats". Mixed in with actual 1979 hits by the likes of Anita Ward, The Dooleys and Darts were not one, not two, but three tracks by Suzanne Somers & Paul Nicholas, plus the title song by Paul Nicholas alone: yes, he sings the theme tune.
The RSO label felt confident enough to issue that title track, written by Frank Musker and Dominic Bugatti, as a single (RSO 50). As you can see, the picture sleeve states that the song comes "from the Motion Picture" and shows a small insert of Paul Nicholas himself.
Someone in marketing thought it would be a good idea to plaster the bottom half of the sleeve with an unexceptional image from that staged match at Portman Road. Ian McShane attempts to control the ball while we see ads for CE Matthews and Manpower in the background.
As you might be able to tell from that logo in the top right of these images, I caught Yesterday's Hero on the mighty
Talking Pictures TV
.

EDitorial ± 6-May-2020
ITFC Football '78
<! - |entrytitle|ITFC Football '78| -->
Celebrating 42 years since the 1978 FA Cup Final:
Cooper's bright red jersey
Collar coloured black
That Jennings save from Burley
When he popped up from the back
Micky Mills walks up the steps
Lifts the cup, all smiles
Talbot, midfield dynamo
Ran for miles and miles
Allan Hunter, sleeves rolled up
Sneaks a cheeky smoke
Beattie's perm, that Ipswich cap
A legendary bloke
Osborne's left, one-nil to Town
That Otley boy did good
Wark is so unlucky
Two shots against the wood
One hits the bar from Mariner
Another rolls just wide
Geddis takes on the defender
Dips a shoulder, goes outside
Woods fries Rice throughout the game
He's there and then he's gone
Ten minutes left with Osborne off
They send Mick Lambert on
EDitorial ± 24-Apr-2020
An A-Z of fish & chip shops in Ipswich
<! - |entrytitle|An A-Z of fish & chip shops in Ipswich| -->
Presenting an A-Z of fish & chip shops in Ipswich:
Letter B
An A-Z of fish & chip shops in Ipswich, letter B

Barry's Fish & Chips, Spring Road
Britannia Fish Bar, Woodbridge Road#IpswichFishAndChips pic.twitter.com/PRdtEi4q3B

— Ed Broom (@edbroom) April 24, 2020
Letter C
An A-Z of fish & chip shops in Ipswich, letter C

Chantry Fish & Chips, Hawthorn Drive
Chipswich Fish & Chips, Cambridge Drive
Codfather, Woodbridge Road
CodFellas, Greenfinch Avenue#IpswichFishAndChips pic.twitter.com/qe36PzhrQH

— Ed Broom (@edbroom) April 24, 2020
Letter D
An A-Z of fish & chip shops in Ipswich, letter D

D'n'S, Bramford Road#IpswichFishAndChips pic.twitter.com/o1w9hBOYgg

— Ed Broom (@edbroom) April 24, 2020
Letter E
An A-Z of fish & chip shops in Ipswich, letter E

Ellenbrook Fish Bar, Ellenbrook Road#IpswichFishAndChips pic.twitter.com/OoSSGE8Yfz

— Ed Broom (@edbroom) April 24, 2020
Letter F
An A-Z of fish & chip shops in Ipswich, letter F

Foxhall Chippy, Camden Road
Fresh Fry, Penshurst Road
Fridays, Meredith Road
Fry-days, Norwich Road#IpswichFishAndChips pic.twitter.com/0fz9Ue3pnn

— Ed Broom (@edbroom) April 24, 2020
Letter G
An A-Z of fish & chip shops in Ipswich, letter G

The Golden Fish, Woodbridge Road#IpswichFishAndChips pic.twitter.com/6xvn7tEvsr

— Ed Broom (@edbroom) April 24, 2020
Letter H
An A-Z of fish & chip shops in Ipswich, letter H

Henley's Fish Bar, Fircroft Road
Hilton Fish Bar, Bramford Road
Hot Stuff Fish & Chips, Reynolds Road#IpswichFishAndChips pic.twitter.com/w4s11bQtj2

— Ed Broom (@edbroom) April 24, 2020
Letter I
An A-Z of fish & chip shops in Ipswich, letter I

Ipswich Fish & Chips, Coachman's Court#IpswichFishAndChips pic.twitter.com/hodjdzO6kc

— Ed Broom (@edbroom) April 24, 2020
Letter J
An A-Z of fish & chip shops in Ipswich, letter J

Joe's Fish & Chips, Felixstowe Road#IpswichFishAndChips pic.twitter.com/A0zeiq0nLk

— Ed Broom (@edbroom) April 24, 2020
Letter K
An A-Z of fish & chip shops in Ipswich, letter K

Kingfish, Queen's Way#IpswichFishAndChips pic.twitter.com/DJFXyzUdOR

— Ed Broom (@edbroom) April 24, 2020
Letter M
An A-Z of fish & chip shops in Ipswich, letter M

Maidenhall Fish & Chip Shop, Maidenhall Green
Marmaris Kebab & Fish Bar, Garrick Way
Miller's Fish & Chips, London Road#IpswichFishAndChips pic.twitter.com/TNUywMHcPT

— Ed Broom (@edbroom) April 24, 2020
Letter N
An A-Z of fish & chip shops in Ipswich, letter N

Nacton Road Fish Bar, Nacton Road
Nelson's Fish & Chips, Hening Avenue
Neptunes, Tye Road#IpswichFishAndChips pic.twitter.com/MntBJQihgQ

— Ed Broom (@edbroom) April 24, 2020
Letter O
An A-Z of fish & chip shops in Ipswich, letter O

Ocean Fish Platter, Upper Brook Street
Ocean, Norwich Road#IpswichFishAndChips pic.twitter.com/420FtC96aP

— Ed Broom (@edbroom) April 24, 2020
Letter S
An A-Z of fish & chip shops in Ipswich, letter S

Starfish, Wherstead Road#IpswichFishAndChips pic.twitter.com/N9tyzubsiO

— Ed Broom (@edbroom) April 24, 2020
Letter W
An A-Z of fish & chip shops in Ipswich, letter W

Wellesley Road Takeaway, Wellesley Road
White House Take-Away, Ulster Avenue#IpswichFishAndChips pic.twitter.com/kBROzPa3Kk

— Ed Broom (@edbroom) April 24, 2020
Mine's the double fish cake and chips.