EDitorial ± 3-Apr-2007
West End Girl
<! - |entrytitle|West End Girl| -->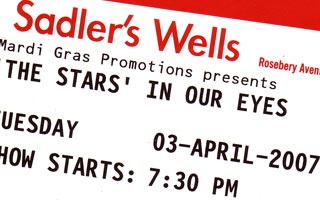 After rehearsing for the last 43 years -- well, several months -- Middler's big night out arrived. Her chance, along with 29 other be-leotard-ed girlies, to grace the stage of Sadler's Wells in London's busy West End. Coo blimey.
She's been tap-tapping for yonks at the local Stacey Pepper Dance Academy and The Gals have, to a man, been putting in some serious hours. Like Stephen Fry said, if I don't misremember a speech of his from a while back, dance is their life.
Long day too: coach departed at 8am, yet more practice at the theatre, show at 7:30pm, returning to Ippo gone midnight. Some stamina required.
As per their last performance at the Corn Exchange, I drew the short-ish straw in playing parent to The Boy, leaving Ma plus Eldest plus Nana to catch the Liverpool Street train. I'm told by these impartial observers that the Peppers more than held their own among the other dance schools, being well-drilled and sharp. Go girls.
Mighty proud of her.